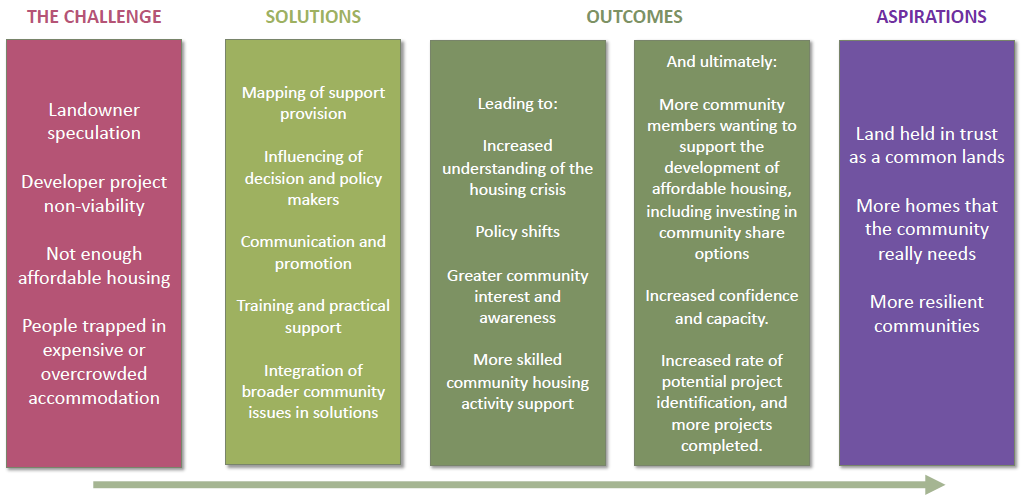 For full information on our organisation and how it works please refer to our Business Plan which can also be downloaded
Our primary aim is to inspire and implement solutions to providing housing for those living in the Bridport area who are in genuine need of a home they can afford.
Relieving housing insecurity means those benefitting can sustain working locally and thriving in their community.
BACH has been set up primarily to provide a mechanism for community participation, partnership, and where appropriate, taking a lead in the development of affordable housing.
We will also seek opportunities to implement related initiatives.  For example, applying energy-efficient measures to reduce home energy bills, support of novel building techniques, and support of programmes to train people and provide employment.
Our work will involve liaison with the local authorities, negotiation with land owners, and working with architects and builders including, if appropriate, Registered Providers (Housing Associations).
We will undertake the ownership and stewardship of assets for the benefit of the local community.
We are a Community Benefit Society open to all and operate on a not-for-profit basis, with all surplus being reinvested back into our work.
We intend to apply for grants to start-up projects.  When a project opportunity has reached an appropriate degree of maturity a Community Share Issue may be undertaken to raise investment.
All homes will remain affordable for ever.
HOW FAR ARE WE?
Our Community Benefit Society was formed in November 2020 and we are currently setting up our management system. At present our team consists of 4 Directors.
We have already embarked on a Project for which a substantial start-up grant has already been received (see Projects for more details).
We are seeking Board members and willing helpers to support our endeavours.
Join Us to be able to vote at our meetings, to actively help, or simply to give us moral support.
HOW WILL WE WORK?
As mentioned, for more information on our organisation and how it works please refer to our Business Plan which can also be downloaded.
Our Commitment & Policy Statements where these relate to the well-being of everyone involved in our activities, Health & Safety in the workplace, and protection of the environment.
Our Expense Claims & Reimbursement Policy and Procedure including a claim form.